School Board Vacancy - Unexpired Term Open Immediately Helix School District is currently seeking a board member to fill position 3 of the Helix School Board. The appointee will serve until June 30, 2023. Please complete the application and read the timeline for appointment prior to submitting the application to the Helix School District Office, 106 Main Street, P.O. Box 398, Helix, Oregon by 5:00 p.m. on November 4, 2021. The application or questions may also be emailed to Cindy Wood, Administrative Assistant and Board Secretary. Application -
https://5il.co/10h7a
Board Vacancy Information and Timeline -
https://5il.co/10h79

Helix Parents/Guardians: The Board meeting this evening at 7:30 p.m. will be available on Zoom. The link will allow remote participants to view and hopefully hear the proceeding. A conference microphone will be added this evening to help increase the availability of the audio. If you would like to make public comment to the Board, please come in person. Join Zoom Meeting
https://zoom.us/j/98442605031?pwd=Tnd0a2kvMW1Fbm80ZS8rNnVRcTVjQT09
Meeting ID: 984 4260 5031 Passcode: Helix Thanks, Brad Bixler, Superintendent/Principal

Thanks to the Helix community members and parents that were able to join us last Thursday evening for the Helix Community Dinner and Open House. The weather was beautiful and the food was delicious. We had a wonderful turnout and the Booster Club was well supported with additional memberships, donations, and many folks purchased some Grizzly swag. A special thanks to everyone that was able to jump in to lend a hand. Aerial footage by Evan Reeder -
https://5il.co/10ejd

Congratulations to the Grizzly high school cross country team for beating their personal records! Mr. Kahl, our high school coach, celebrated their success today with a new haircut. Way to go Mr. Kahl!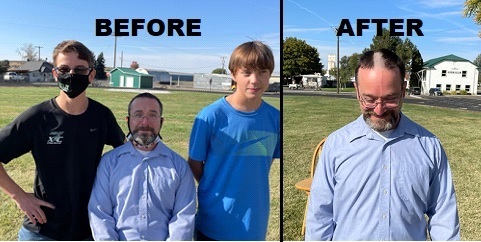 Helix Community Dinner and Open House! Thursday, October 7th, 2021 4:30 PM - 7:00 PM
https://5il.co/zvoh

Due to COVID-19 exposure and concerns, the Helix School District, in consultation with the Umatilla County Health Department, have canceled the volleyball matches scheduled for Thursday, Sept. 9 and the tournament scheduled for Saturday, Sept. 11.

Dear Helix Parents, Students, and Community - After a long year of modified music classes, the Helix school band is equipped this year to play once more. We have bought specialized instrument masks and students will be practicing in a larger space to allow us to safely play our instruments again in class. Considering the limited time our students have been able to practice this last year and with the continued concern of COVID-19, Mr. Butler and I have decided that the Helix bands will not be performing in the Westward Ho Parade this year. I'm confident that this decision is in the best interest of the students and their families. If you have any questions or concerns, please feel free to call me at 541-457-2175, ext. 3757 or email me at
brad.bixler@helix.k12.or.us
Brad Bixler, Helix Superintendent Jonathan Butler, Helix Band Instructor

Fall Junior High Sports Schedules


This morning Governor Kate Brown today directed the Oregon Health Authority (OHA) and the Oregon Department of Education (ODE) to create a rule to require masks indoors for K-12 schools statewide for the 2021-22 school year, in line with the Centers for Disease Control and Prevention's recently updated guidance, and based on the latest science on the spread of the Delta variant. Information about Helix School District's plan for the 2021-2022 school year will be coming next week after I receive updated guidance from ODE. Please be safe!

Good Morning, As of today, the Helix School District is adopting the updated Ready Schools, Safe Learners (RSSL) Resiliency Framework for the 2021-22 School Year. For further information about the Framework, please follow this link -
https://www.oregon.gov/ode/students-and-family/healthsafety/Documents/Ready
Schools Safe Learners Resiliency Framework for the 2021-22 School Year.pdf I recognize that it isn't possible to please everyone, even as things begin to improve. There are some people who want everything to go back to normal immediately, and there are others who would like to see more health protocols in place until COVID-19 and all its variants no longer pose a threat. The reality is COVID-19 and its variants aren't going away anytime soon, and while vaccination is a powerful tool in stopping the spread, vaccines aren't available for younger children and they aren't mandated for everyone. Your voice is important as we make decisions for the fall. Please complete the following short survey about health protocols in the next few days. Survey Link -
https://docs.google.com/forms/d/e/1FAIpQLScDXKoeEbijC729mSO_cJKv6nnB6DPzHK_m4mbM-ypNrZpltQ/viewform?usp=sf_link
Thank you for your input! Have a great rest of your summer! Brad Bixler, Helix Superintendent

Good morning. As of Monday, June 21st, the Helix SD has received signed inter-district transfer forms from the Pendleton SD. If I have not contacted you, and you are in the Pendleton SD, we do not have a transfer form for your student. Please go to the Pendleton District office and complete an inter-district transfer form, if you intend to enroll your student in the Helix SD for the 2021-22 school year. Thanks, Darrick Cope, Superintendent, Helix SD

Good afternoon. Just a couple things ~ Interdistrict transfers must start in the release (home) district for both continuing and new students. Mandatory registration is Aug. 10th and 11th. Since this will be my final text, I wanted to thank you for all your flexibility, patience and understanding this past school year. Without your support the Helix SD would not have had the success we did. Thanks for everything, Darrick Cope

Good evening. Just a reminder, tomorrow is an early release. Students will be dismissed at 12:23pm. Also, 8th grade graduation starts at 6:30pm and doors open at 6:00pm. Due to COVID restrictions, each 8th grader is only allowed two attendees. Thanks, Darrick Cope

Wheel-A-Thon 2021

As a result of the new ODE guidance, Helix students in grades K-12 will no longer be required to wear their masks at outdoor recess, PE or at events like the Wheel-a-thon.

Happy Mother's Day from the Helix School District.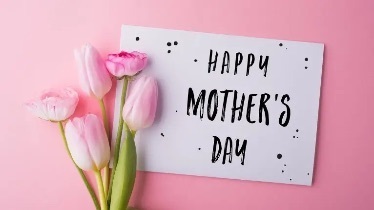 Spirit Week Fundraiser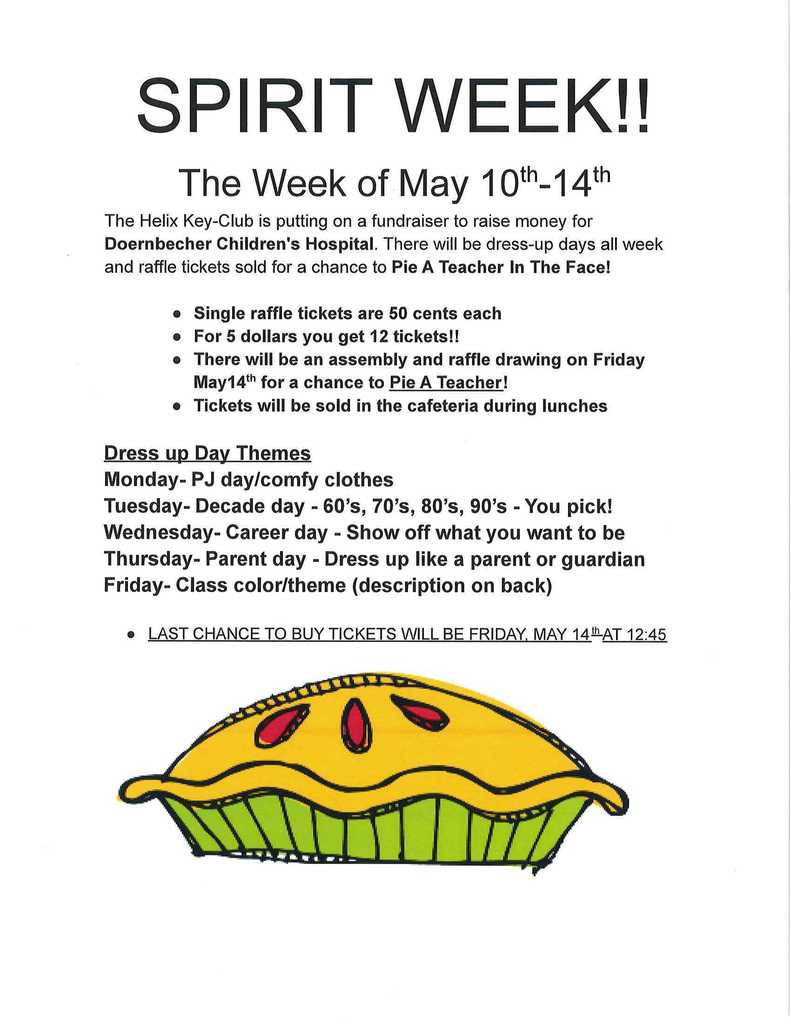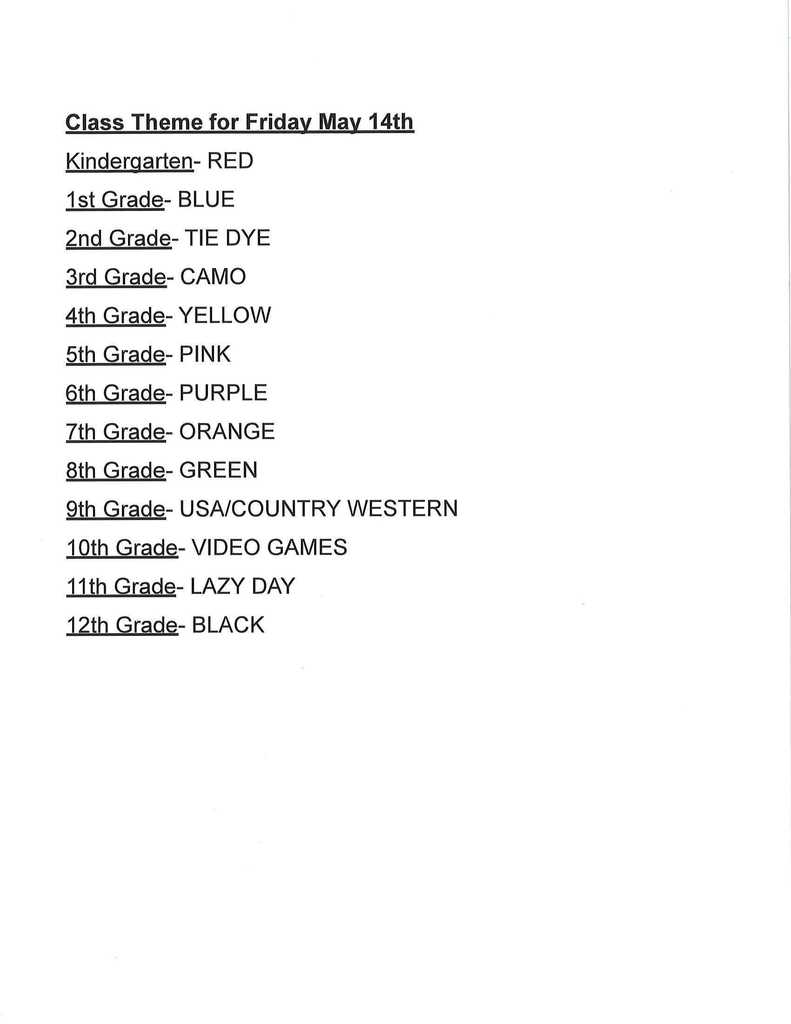 Student pick-up today will be at the front of the school. The bus lane is closed because of the track meet. Teachers will bring the K-5 students to the front lawn area by the flag pole to be picked up. Sorry for the inconvenience. Thanks, Darrick Cope

Good afternoon and Happy Friday!!! Just a reminder, all spectators (parents, etc.) at the MS Track meet today must stay outside of the chain-link fence to watch, unless you have signed up with Mr. Simpson and are assisting with the events. Have a great weekend and Happy Mother's Day. Thanks, Darrick Cope