Dear Helix Parents, Staff, and Students,
I wanted to take a moment and thank everyone that was able to respond to our recent survey about safety and health protocols as we get ready to start the 2021-22 school year. With over 130 respondents, we were able to capture a large sample of our parents, staff, students, and community. The charts below show that most of our parents, staff, and students favored optional masks for staff and students.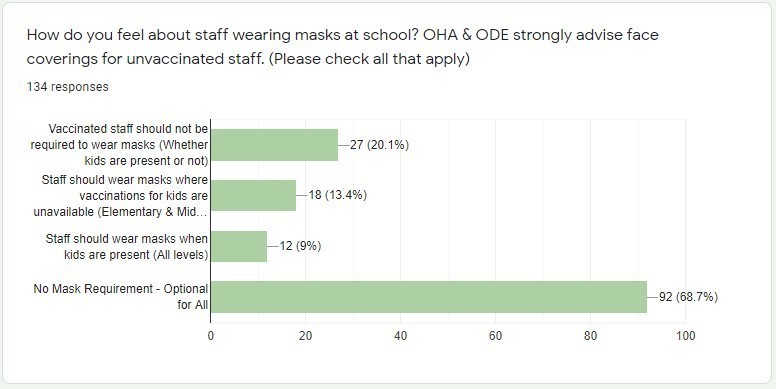 The Helix community and our surrounding region was shocked last week when the Governor announced a mask mandate for Oregon public schools. This decision was in direct conflict with the majority of our region and many in our community. The Helix School Board and I will continue to advocate for local control. I expect to know more from the Oregon Department of Education (ODE) in the next week about what regulations will guide the start of our school year. Helix School District will implement a mask-optional plan when it is allowed by the state and local health authority.
As we learned last year, plans are subject to change. We will do our best to provide as much stability and parent choice as we are able. I will also communicate as quickly and efficiently as possible. As I indicated earlier, I recognize that it isn't possible to please everyone, even as things begin to improve. There are some people, who want everything to go back to normal immediately, and there are others who would like to see more health protocols in place until COVID-19 and all its variants no longer pose a threat. The reality is COVID-19 and its variants aren't going away anytime soon, and while vaccination is a powerful tool in stopping the spread, vaccines aren't available for younger children and they currently aren't mandated.
I am looking forward to a successful year ahead. As we continue to finalize more detailed plans, I'll be sure to update our website as well so you have all the information you need to make the best decisions possible for your student and your family.
If you have any questions or concerns, please feel free to call me at 541-457-2175, ext. 3757 or email me at brad.bixler@helix.k12.or.us
Brad Bixler, Helix Superintendent